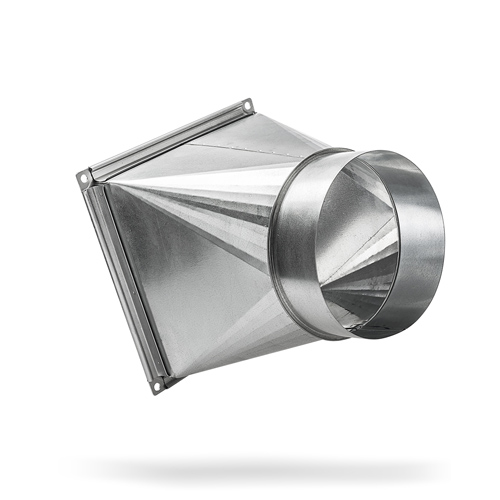 M-Air
Rectangular Ducts
Rectangular Ducts are the most commonly used type and are made with zinc-coated sheet-metal or stainless steel. They feature Pittsburgh lock longitudinal seams with a transversal PDF3 flange as an integral part of the duct.
A duct for every application
Rectangular ducts are used for a variety of settings (civic, naval, industrial, etc.) and can be installed in both ceilings and suspended ceilings.
Indoor or outdoor insulation is available on request.
Advantages
Suitable for tight spaces: the rectangular shape allows, for the same cross section area, a lower installation height, which is particularly suitable for suspended ceilings.
(It is advisable, however, not to exceed a 4:1 ratio).
Smaller bending radii: rectangular ducts have smaller bending radii than round ducts, which makes displacement smoother and reduces changes of direction.
High rigidity: a system of reinforced cross ribs makes our ducts more rigid and stable. Duct sheet thickness ranges from 0.5 to 1.2 mm; duct length is up to 2 000 mm (fewer joints and, consequently, reduced pressure loss).
High airtightness: the cutting-edge PDF3 is in full compliance with UNI EN 1507:2008 regulations. Compared to similar technologies, flange making and positioning is carried out in one single step, and does not require welding and punching.
Manufacturing and Installation Specifications
PDF3 flange system, the newest technology for junction components made out of the coil sheet; applicable to straight and special pieces. Flange height: 20 mm for 6-7-8/10 metal sheets, and 30 mm for 10-12/10 metal sheets.
Longitudinal junctions are made using Pittsburgh-type seams, applicable to up to 1.2 mm thickness. If high tightness is required, longitudinal junctions are internally sealed with silicon.
'Z-bead' stiffening cross ribs for low/medium pressure aeraulic nets. Internal reinforcements for large ducts and/or high pressure plants.
Bending radii and manufacturing features according to A.S.A.P.I.A regulations, which integrates existing regulations (ISO, DIN, SMACNA, etc.) with manufacturing systems currently available.
Supporting elements made with zinc-coated C-profile and threaded rods. We can also provide standard earthquake-proof products.
Geometric features:
A= duct side
A= <300 zinc-coated sheet metal thickness 0.6 mm A= 300-750 zinc-coated sheet metal thickness 0.8 mm A= 800-1200 zinc-coated sheet metal thickness 1.0 mm A= 1250-200 zinc-coated sheet metal thickness 1.2 mm Standard pieces are 1650 mm long (for 6-7-8/10 thickness), and 1610 mm (for 10-12/10 thickness). Minimum PDF3 size for straight pieces: 150 x 150 mm Minimum PDF3 size for special pieces: 250 x 250 mm
Air Tightness class:
M-AIR products are available for the following pressure levels:
Low pressure: + 1000 / – 500 Pa
Medium pressure: + 2000 / -750 Pa
Depending on manufacturing methods, ducts are classified into three different airtightness classes:
M-Air A: class A (UNI EN 1507:2008)
M-Air B: class B (UNI EN 1507:2008)
M-Air C: class C (UNI EN 1507:2008)